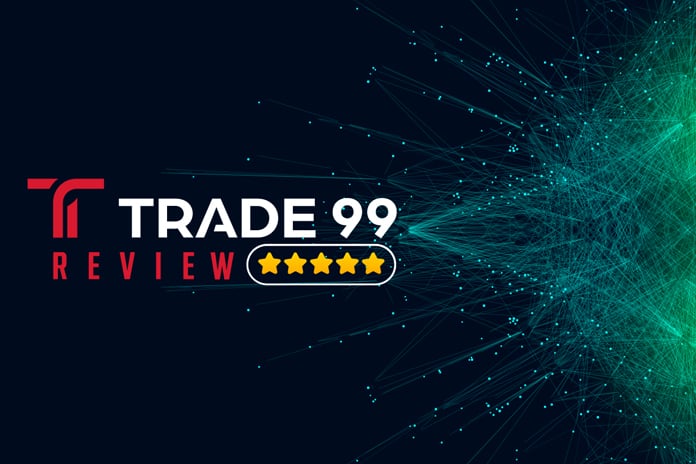 Every trader wants a brokerage that is cost-effective and is capable of offering premium research and innovative tools on a trading platform. An online broker is the most common way of starting trading in many assets. These days the online brokerage firms are also offering desktop and mobile platforms that provide a similar trading experience as a web-based platform. Online brokerage firms offer right analytical tools on the impressive trading platform, which helps the traders to trade effectively.
Trade99 is a cryptocurrency broker that offers a lot of impressive services to its clients along with the hi-tech trading platform. Trade99 is owned and managed by Nohelious International Marketing Operations, which placed in the Dominican Republic. The firm was commenced in 2019 by the experts having years of experience in the finances. The advanced trading platform and extraordinary customer support are what make this company stand out.
Pros:
Secured transaction
Intuitive trading platform
Advanced tools
Cons:
High spreads
Regulations– Trade99 has gained its popularity in a very short duration of time, which proves that people trust the firm for their trading needs. It has recently been granted the membership of the Financial Commission, which is going to be beneficial for both the firm and its clients. The benefits of being a member of the Financial Commission include the protection for up to 20,000 Euros for each complaint filed, which is supported by the Financial Commission's compensation fund. Financial commission acts as an unbiased third party and resolves disputes between two parties easily and swiftly.
Furthermore, the firm discourages the money laundering activity and complies strictly with AML and KYC policies. The firm needs a trader to provide his basic information to ensure that no illicit entity sign-ups on their platform.
Different Trade Instruments – Trade99 offers over 190 trading instruments to its clients. This exhaustive list of assets makes the firm stand out among its competitors. A trader can trade in many CFDs pairs, including precious metals, indices, commodities, and digital assets.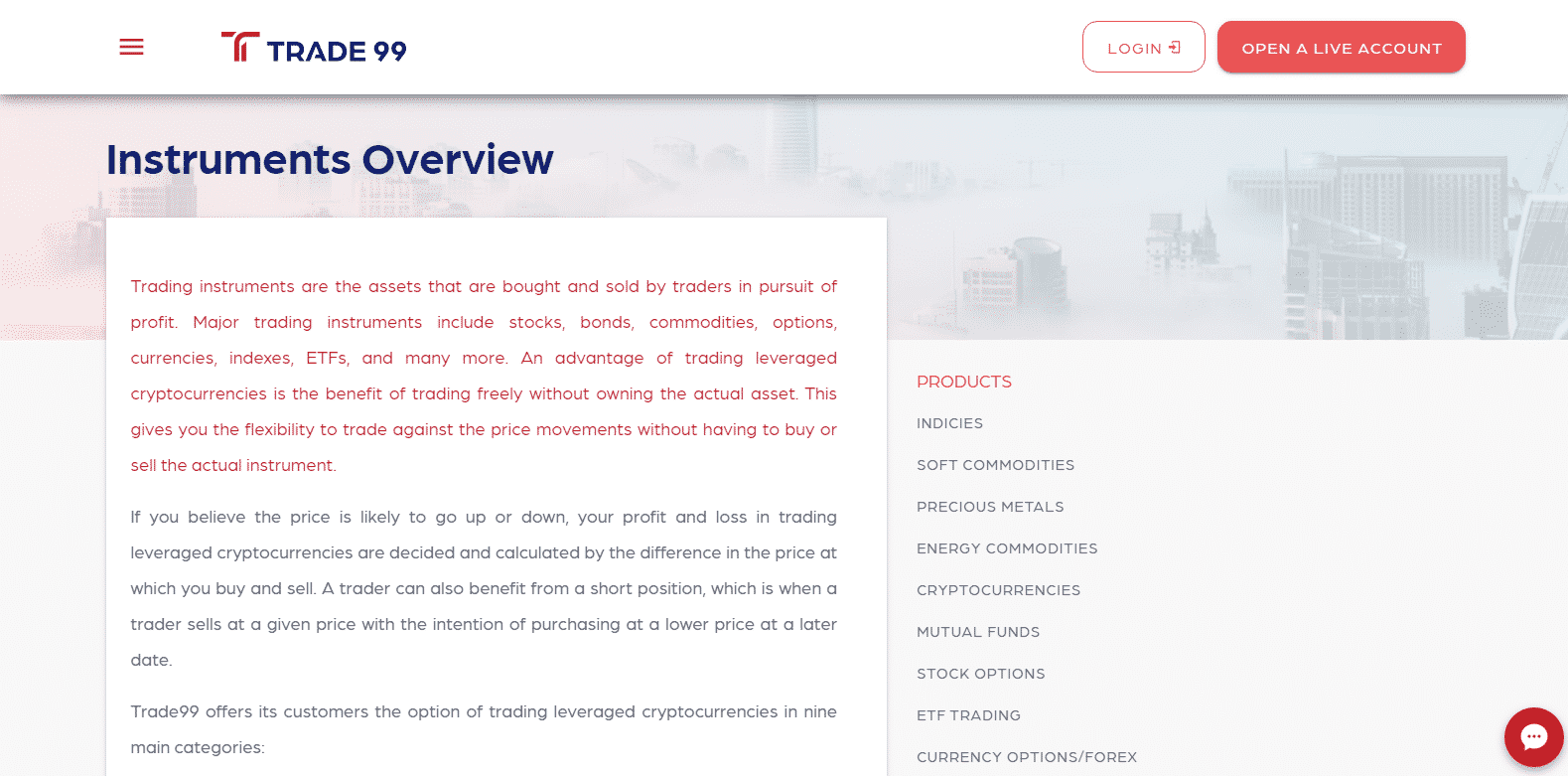 Trading platform – Trade99 offers the MetaTrader5 trading platform to its clients as it is one of the most popular trading platforms among the traders. MT5 provides alot more advanced features and allowed the traders to trade with ease. It has also launched its web-trader and mobile trading app, which allows the trader to trade at any time they like and from anywhere they like.
Security – All the transactions on Trade99 are secured. The personal data is kept safe, and so is the deposition and withdrawal of the fund. Once the account created, depositing the fund is easy. The deposited fund immediately starts to show on the balance sheet of the trading platform.
Multiple accounts – Trade99 offers four types of accounts, which are standard account, silver account, Gold account, and Premium account. Different accounts have different opening limits. For standard, silver, gold, and premium, the minimum limits are 250 USD, 2,500 USD, 5,000 USD, and 10,000 USD. All the account holders given the benefits of educational materials like webinars, video content, articles, e-books, trading charts, market analysis, etc. The account managers are also always happy to train the traders on how the accounts work. By increasing the fund, a trader can move from one account to another.
Commission and fees – Trade99 is known to offer high-quality services, but it provides high spreads to its clients, which is a major drawback, especially for the beginners. The firm charges varying fees for withdrawal, deposit, and services. Based on the amount being withdrawn, the firm offers a trade bonus to its clients. Payment is made easy as the platform supports all kinds of payment options like bank wire transfer, Visa/Master Card, and Bitcoin.
Education– Trade99 offers updated educational material to its clients to enhance their knowledge and increase their profit-making chances. The website has one page for educational materials where a trader may find all kinds of information that he needs to trade effectively. The informational material is suitable for both skilled and novice traders. A trader can use such information and increase his chances of building profit with articles about different commodities, indices, and stocks.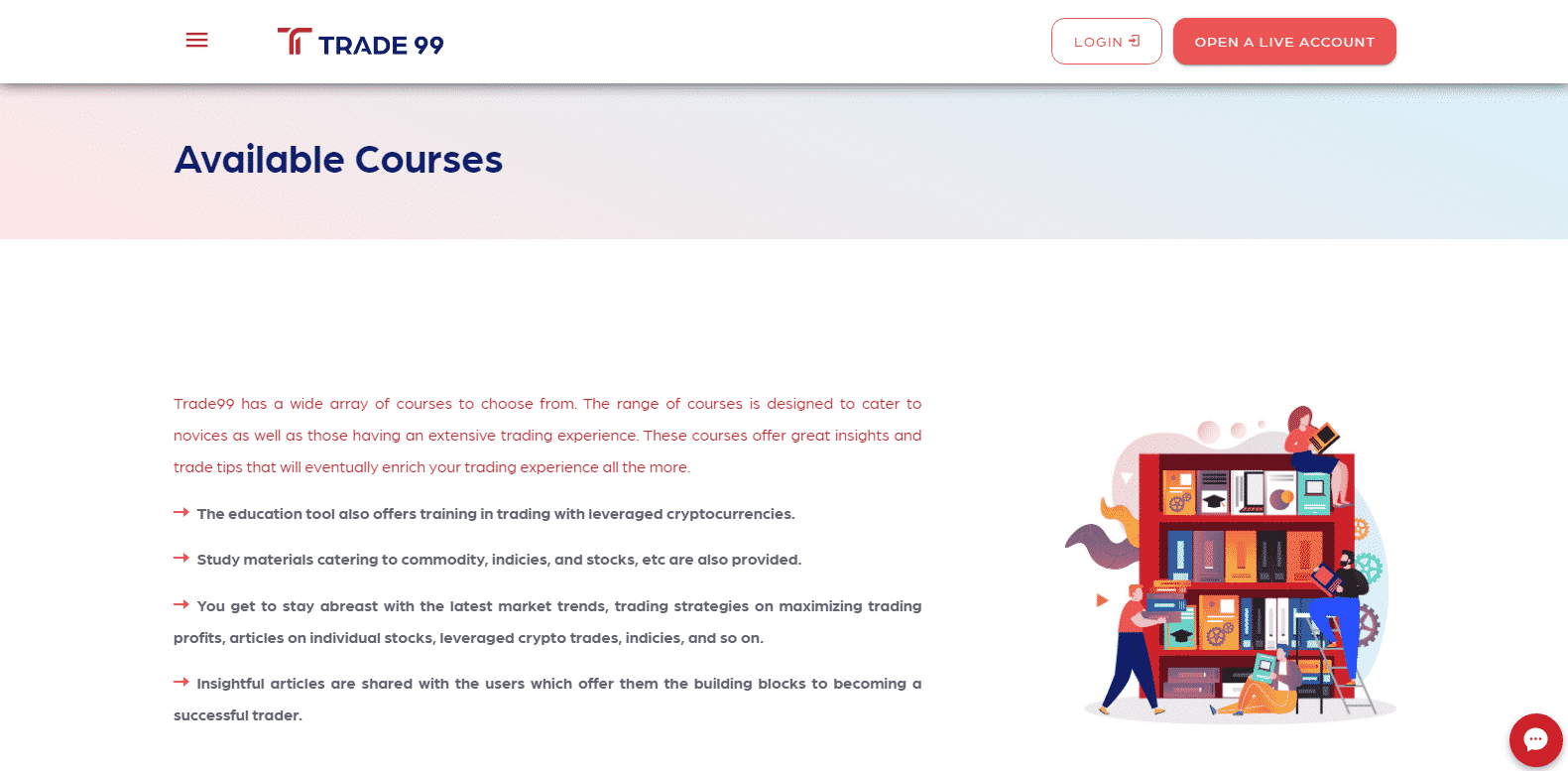 Customer Services and Guidance –Extraordinary customer service is one of the best features of the firm. The customer support team answers all the queries of the traders through email, live chat, and social media. A section of FAQs also guides the traders when they are facing any common problem.
A good online brokerage firm is very important to start profitable trading. A user-friendly and advanced trading platform offered by Trade99 is very helpful for the traders who are looking forward to an easy way of trading. The numerous trading instruments, along with the extraordinary support team, make Trade99 one of the unique online brokers.
Trade99 Review: Overall Conclusion!
Trade99 offers extraordinary customer support to its clients and multiple trading assets like Indices, commodities, CFDs, and cryptocurrencies to the traders. Check out its ratings also!