Degiro: Europe's Giant Brokerage Company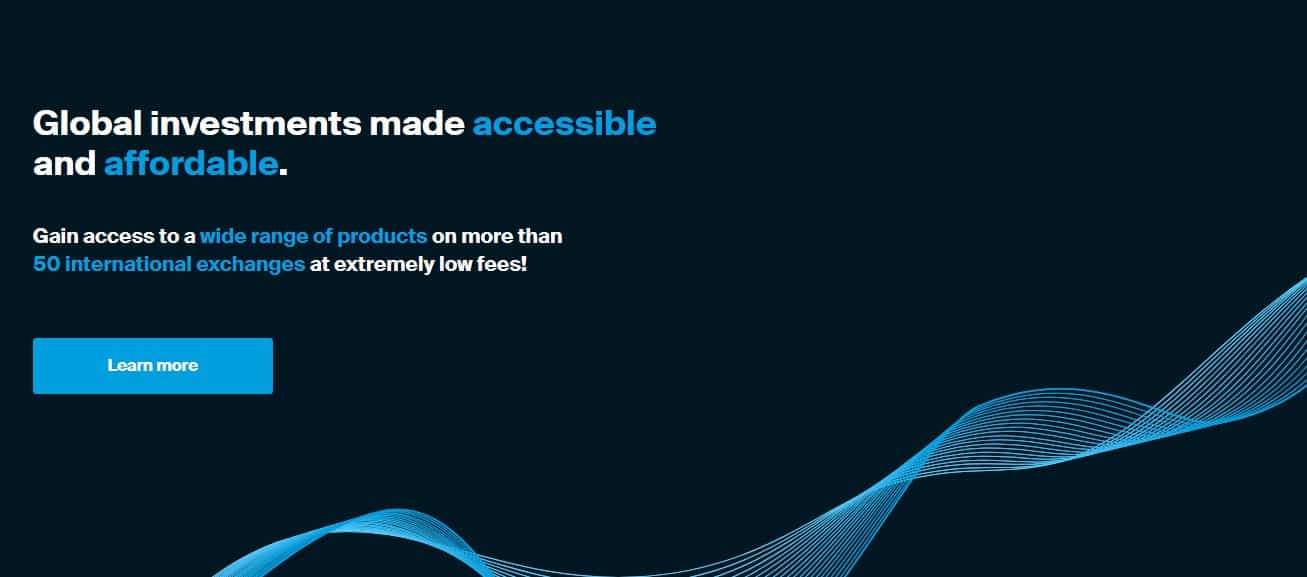 Degiro is a wholesale brokerage company, based in Amsterdam. It was founded in 2013 and today it has the presence across 18 European countries. It is registered with the Chamber of Commerce and Industry in the Netherland. It gives full access to the global marketplace and has more than 400,000 customers. It offers lower fees and is one of the cheapest platforms to trade. It charges the lowest fees on various products such as trusts, funds, bonds, stocks, futures, and many more. Check the full Degiro review to know more.
Degiro's charting tools and mobile platform is average. Its mission is to provide financial planning and affordable finance to every customer around the globe. It uses financial know-how and technology to develop cost-efficient and state of the art financial services for everyone. It provides cost-reduction on various trades to its clients. It has great connectivity and server infrastructure. Degiro is the perfect platform for investors of all sizes who trade and manage their portfolio online. Investors are linked to the global market with the help of Degiro and benefit from a global diversification of assets.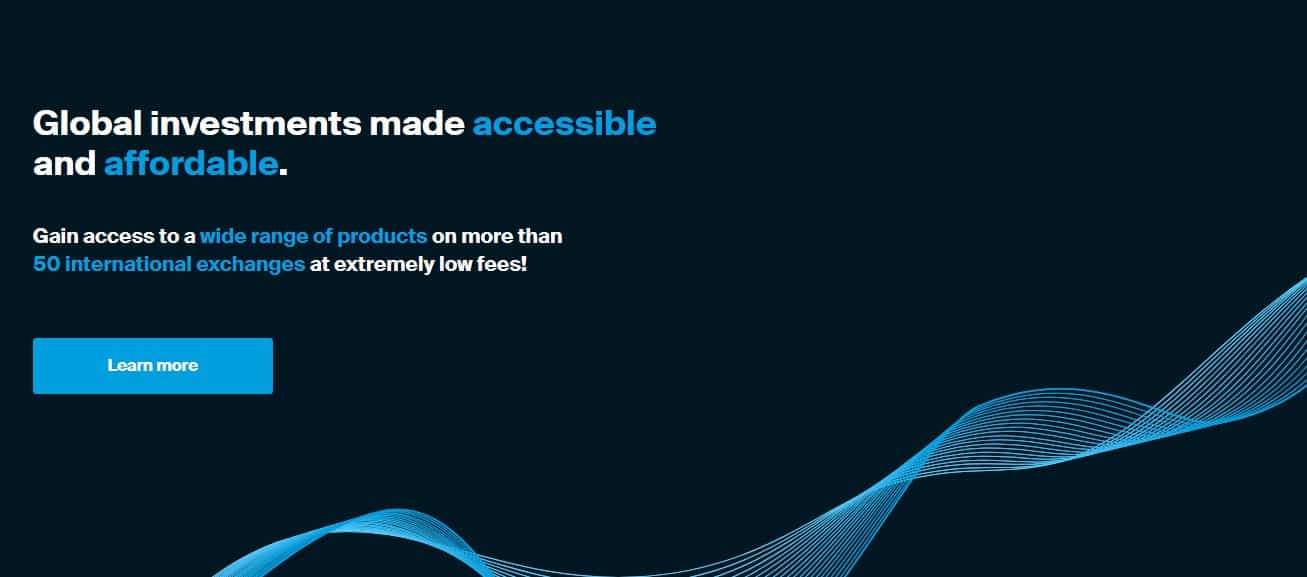 Pros
Availability of fundamental data

Trading tutorials

Fee reports are simple

Safe log-in

Fully digital

Trading and non-trading fees are low

Simple mobile trading platform
Regulations/Protection
Degiro is regulated by many top tier regulatory authorities like the Netherlands Authority for the Financial markets (AFM), Dutch Central Bank and many others. In the UK, it is regulated by the Financial Conduct Authority. Degiro clients chiefly belong to a top-tier financial authority. It has a high degree of investor protection and the user gets investor protection for up to 20,000 euros. It does not offer negative balance protection. Degiro review will provide you all the details which you need to know before start trading.

Account Opening
Degiro offers the account opening services to its customers digitally. It is user-friendly and has a fast account opening process. One of the pros of the customer is that there is very little minimum deposit in opening an account. There is no minimum deposit required to open an account. The procedure to open a new account is simple and straightforward and customers don't need to go through any problem or issue. But currently Degiro has put out a waiting list to open a new account. It provides the facilities to open the following types of account:
Day Trader

Active

Basic

Trader

Custody
It doesn't offer tax-free account options. There are many products for each of the above types of accounts yet the trading fees are equal for each account. 
You need to provide the following information in order to open an account:
Primary bank name

Account type

Financial knowledge

Identity proof & address proof
Trading Platform
Degiro provides a superb web trading platform for its customers. It is easy to use and even a newbie can go through the platform and buy the stocks. It presents a clear fee charge invoice to its users. It is very secure as it has a two-step log-in. The trading platform is available in many languages and the user can trade in the language of his choice. It is very spectacular for executing trades. Though, it doesn't have any customizable options and price alerts notifications. The search option in the platform is good and the user can even filter the search based on the various assets. The trading platform provides trade/order confirmations through email only. Degiro's mobile platform is also very simple and easy to use. It has an amazing and clear design. It doesn't provide a desktop trading platform.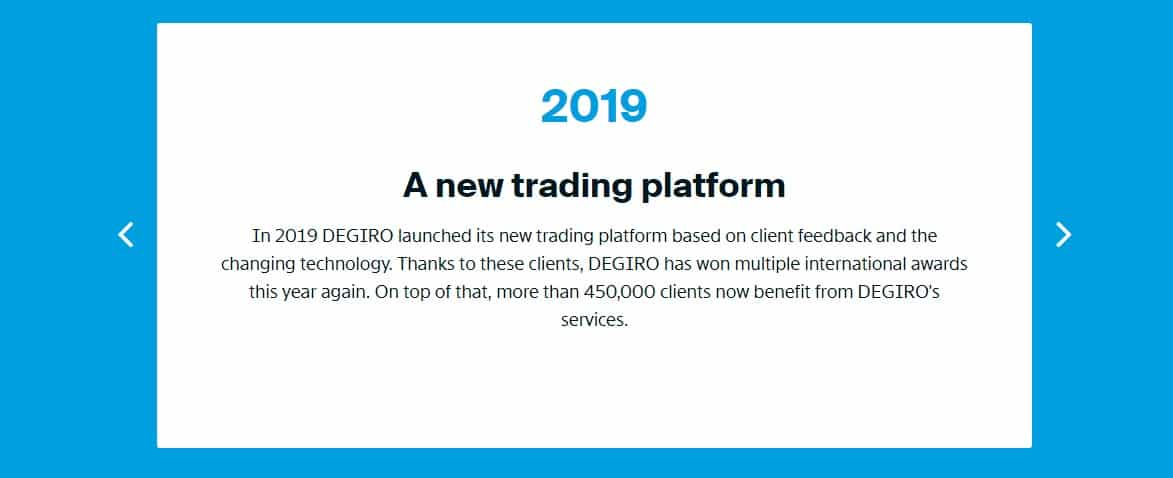 Products
Degiro offers many products to its clients such as stock, ETF, Fund, Bond, Options, Futures, Crypto. But it doesn't provide Forex and CFD. It provides access to thirty international exchanges around the world. Degiro has small futures and options market coverage. The mutual fund providers are also low.
Customer service
Degiro's customer service is brilliant. It resolves the queries of customers with relevant and effective answers in many languages. The customer can contact Degiro either through telephone or e-mail. It doesn't provide the facility of live chat and the 24*7 customer service. The response time of the employee is fast and effective. The phone support is available only in office timing and email support service is average. Due to good customer service, it has got an amazing Degiro review from customers.
Fees
Degiro has a very low trading and non-trading fee. It has low stock and ETF fees. The fees vary a little from one country to another. It also charges low mutual fund and bond fees as compared to other platforms. The user can purchase cryptos through exchange-traded notes. The user is also charged with currency conversion fee in case currency differs. Trading fees are charged when a user trade. These trading fees can be in the form of financing rates, spreads, commissions and conversion fees. Non-trading fees include charges which are not directly related to trading such as Withdrawal fees or inactivity fees. You can also check Degiro review by customers to have a better idea. 
Research
Degiro does not provide trading ideas but it offers fundamental data on assets. It has limited research functions. It has a simple but informative news section. The news feed is available both on the mobile and web platforms.  It offers a simple interactive charting tool on the web platform. Also, the data is available only for very few products.
Education
Degiro gives limited educational videos and tutorials. Only the UK and Netherlands have access to educational tools. There is no demo account to access the educational services before the user starts trading. Webinars and educational articles are missing on the platform. 
Conclusion
Degiro review gives an idea that it is a brilliant trading platform if you want to give low fees to the broker. It is cheaper than other trading platforms in Europe. It is simple to service for asset trading and is regulated by several financial authorities. It has a low bond, future, option fee. Educational resources and research tools are limited. There is no forex trading with Degiro. It has international market access. It has services, research tools and capabilities for all trading markets. Moreover, the user can open an account with no minimum deposit. You can check the Degiro review to get more ideas about its advantages.