Polygon Investors Should Hold Their Positions!

Polygon is the side chain of the Ethereum blockchain. It is also regarded as the layer 2 scaling solution, which increases transaction speed and ensures lower fees.
After the popularity of the Ethereum platform, it is open for global users- from NFTs to the DeFi ecosystem, it receives a high volume of transactions each day. Thus, ETH faced an issue related to scalability and speed; Polygon comes with this solution.
Polygon works as a parallel blockchain running alongside the main Ethereum blockchain. It was earlier known as Matic, and after 2021 it rebranded itself as Polygon. It uses Proof of Stake consensus, which is faster than Proof of Work consensus.
In short, it allows you to do so many things like the Ethereum network but with more speed and fewer fees. MATIC is this network's native coin, mainly used to pay fees.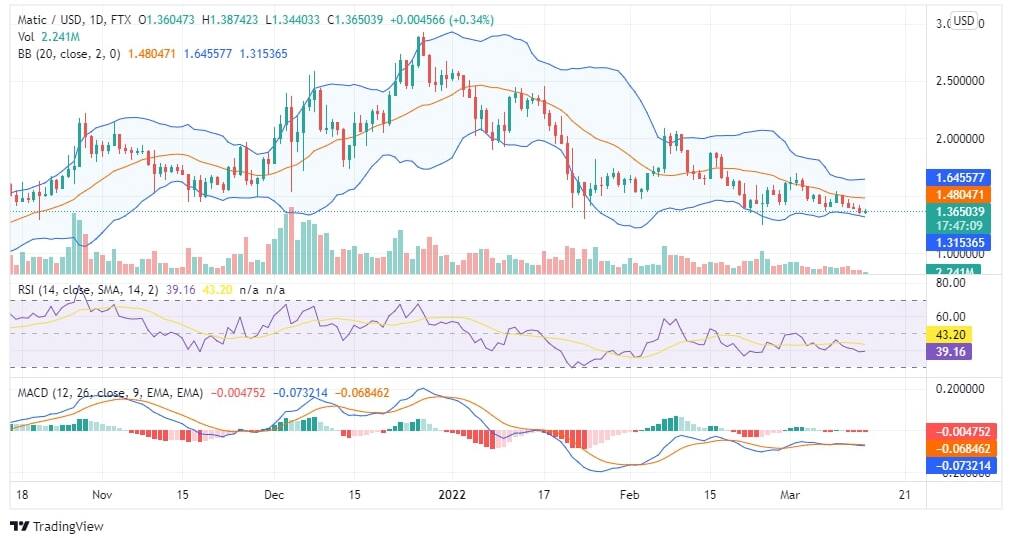 At the time of writing this post, MATIC was trading around $1.37. It has broken the support level of $1.55 and shows bearishness. On the daily chart, we can notice that it has broken the immediate support level, and the next support level can be $1.26.
On the daily chart, the MACD is neutral; the RSI is below 40, and candlesticks are forming in the lower half of Bollinger Band with a strong downtrend. As per the Polygon MATIC price prediction, it is not the ideal investment time, at least for the short term.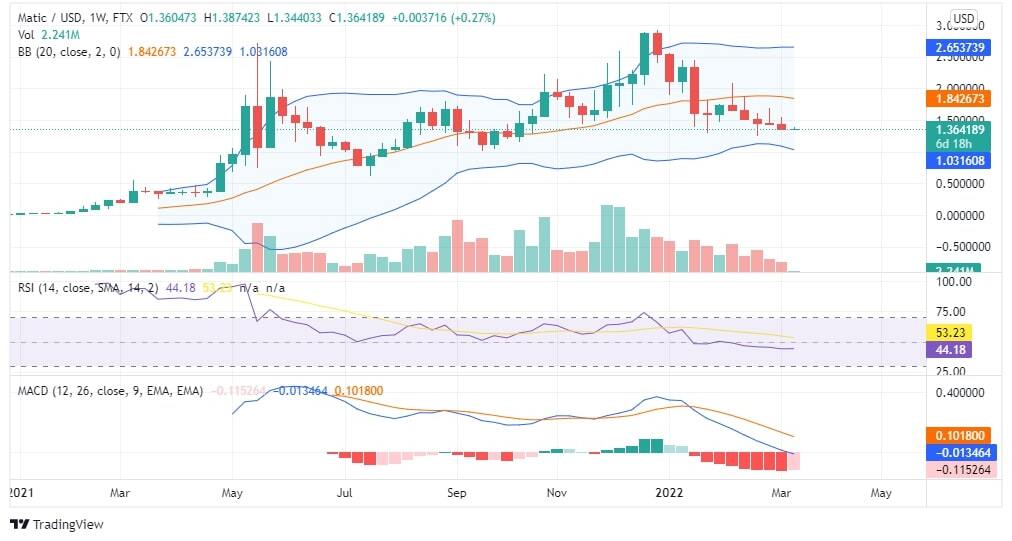 However, the weekly chart was bullish until last month, as it formed higher highs and higher lows following a trendline. The current price is correcting towards the lower band since the last week of february.
In the weekly chart, the MACD is bearish, and candlesticks crossed the baseline of Bollinger Band in the third week of January this year. After that, it formed small candlesticks, which showed low market volatility.
Interestingly on the MACD chart, it created 8 red histograms, and another one is forming this week; it means a total of 9 red histograms, which shows the coin is bearish in the weekly chart.
We think it is not the right time of investment until it turns bullish. 2022 can be a consolidation year for the crypto markets after a long bullish run from the last two years. If you want to invest for the long term, you can start accumulating the coin, but you should not invest for the short term.